Maryland State Arts Council Collaborative Mosaic
Baltimore, Maryland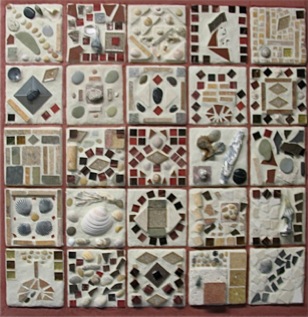 Community cultural work takes many forms, but a common underlying theme is its purpose in bringing people together to celebrate, solve problems, communicate, or address issues that they cannot solve alone. The collaborative mosaic created by members of the Maryland State Arts Council is a prime example. I was asked to design and facilitate a process to initiate the Council's important strategic planning work in the Spring of 2008.

I worked with staff to design a mosaic-making session for the entire Council to help them accomplish their goals of team building, dedication to the importance of the planning work, and acknowledgement of each person's strengths, talents and commitment. The result was a rollicking and intensely focused session in which each member created a 6" X 6" mosaic from an array of materials chosen to form a harmonious palette with varied textures and forms. The resulting pieces were spectacular! I then strove to create a visually cohesive work from the 25 mosaics – a meta-mosaic or metaphor for their collaborative process.