Great Walls of Happiness
General Wolfe Elementary, Upper Fells Point. Baltimore, Maryland
A collaborative school and community project.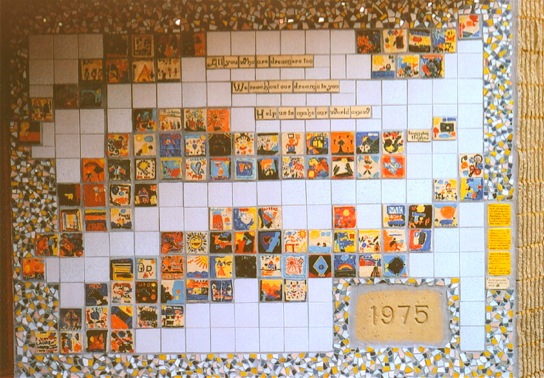 Ceramic tiles with ceramic tile mosaic borders. Two walls: 10' by 8' and 7' by 8'.

Students at this school had no art classes that year. Originally, the principal asked me to work with 6 children -- the ones who were best at art. I just couldn't imagine doing that! So I asked if I could work with ALL of the kids at this small but overflowing school. She agreed, and with the help of a teacher who helped scheduled the art sessions, 217 clay tiles were hand made and glazed by every child, the teachers and the staff of the school. They were simply asked to create something that made them happy. Not a single person had a difficult time coming up with something! Two union bricklayers donated their time to set the tiles on the walls. A ceramic artist helped with the sessions. And many, many people -- over 60 in all, and most from the immediate neighborhood -- assisted in some way to make this happen.